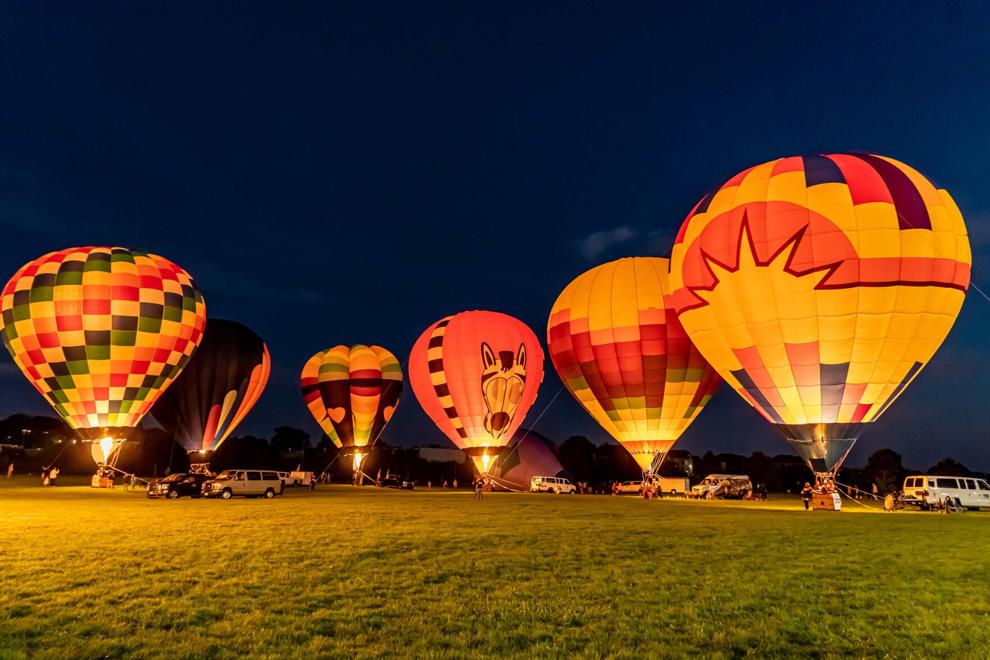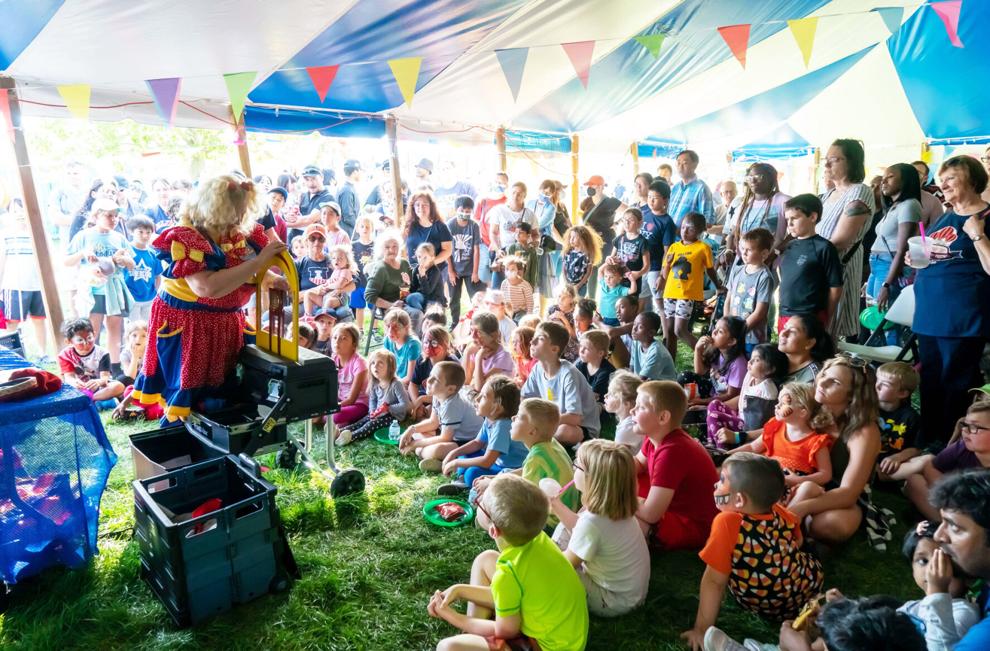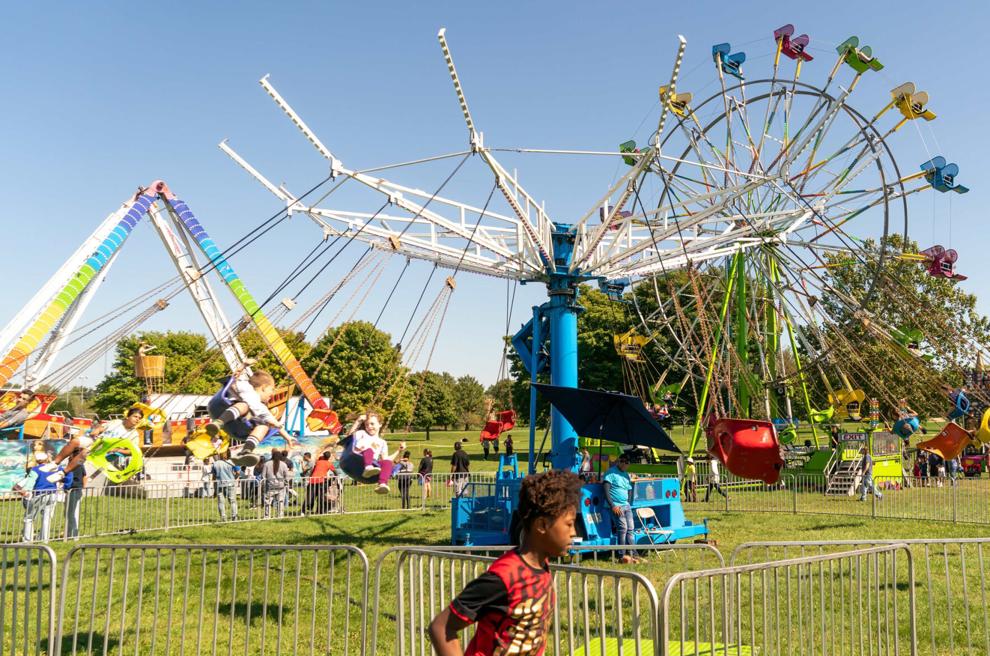 The weather wasn't hospitable, but it didn't keep crowds away from last weekend's Champaign County Balloon Festival at Dodds Park.
Rain and strong winds swept through the area, immobilizing the balloons but not the spirits of the participants.
"We thought the crowd was very good," said festival co-organizer Chris Diana. "It was a beautiful day on Saturday, and you'd assume…the balloons would fly well, but the wind was just a bit too strong."
Hot air balloons cannot fly with winds above 8 to 9 mph. It was more in the 12-14 mph range on Saturday. Everything is regulated by the Federal Aviation Administration.
The children present were not too upset. There was still plenty for them to do, and "those who were there knew from the start that it was going to be weather related," Diana said. "We might have been more upset than the kids."
Especially the aeronauts: 15 world-class pilots from seven states.
With the wind, even attached rides could not be offered.
But there were other things for people to do, like carnival rides, a magic show that drew a crowd, food, and vendors.
But the wind dropped on Saturday, allowing the balloons to be inflated and lit for a light-up event.
Diana said everyone seemed to be having a good time and he thinks such activities are good for the community.
"To see all the parents and the kids having a great time, it kind of reinforced that that's why we had it," he said.
"Everyone we spoke to enjoyed the experience, even if they weren't able to fully enjoy the hot air balloon experience. People enjoyed the food and the games. The children's tent was packed all the time.
Diana said "most certainly" the hot air balloon festival will be held again next year, most likely in September, which is historically the most stable month for weather, lower winds and lack of rain.
John McDaniel and Brian Tipsword joined Diana as event organizers.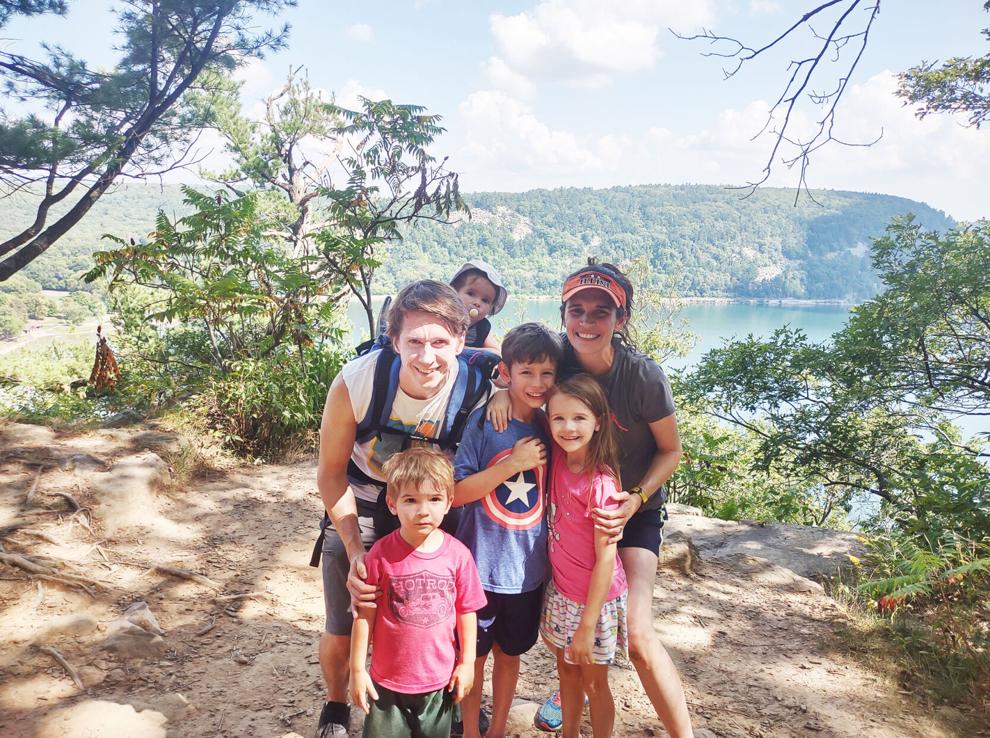 Knox Joins Fisher Hall of FameWhile many Illinoisans traveled to Madison, Wis. this weekend for the Illinois-Wisconsin football game, Dr. Andrew Knox was heading the other way meaning.
The Fisher native and Madison resident returned home for his induction into the Fisher High School Hall of Distinguished Alumni.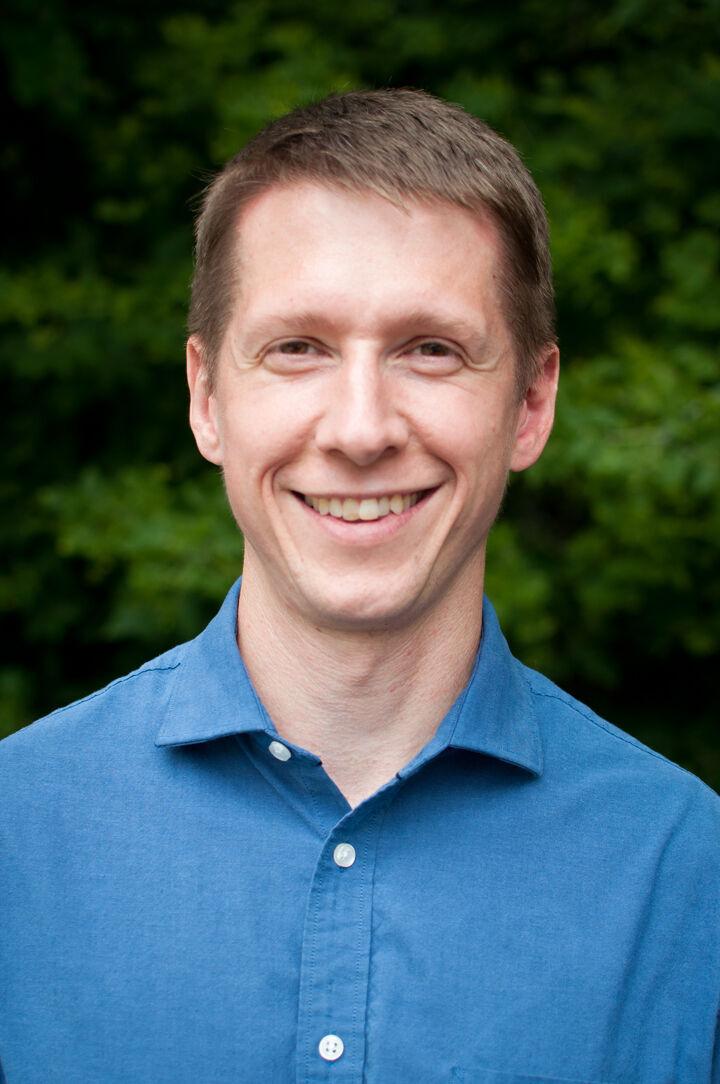 Knox graduated from Fisher in 2000. He entered the University of Illinois – earning a bachelor's degree in computer engineering in 2004 – with the idea that he would make a living working with computers. But things have changed.
He made the decision to switch to medicine during his final year of undergraduate studies.
"Two things prompted the switch to medicine," he said. "After my freshman year of college, I went on a missionary trip to Mexico for a few months, I met people on college campuses and I talked to them about what they thought about faith, and I helped people start some student ministries."
Knox said he left that wondering if he should "do something a little more service-oriented as a career. And I enjoyed some biology classes I was taking at the time and I had other friends who were enthusiastic about medicine as a way to serve others.
At the end, he said he had been called by God to enter medicine.
Knox earned a master's degree in electrical engineering in 2006. During that time, he was able to take some of the pre-medical courses he needed. He earned an MD from Rush Medical College in Chicago in 2011.
He now works with children with neurological disorders, primarily epilepsy, at the University of Wisconsin Clinic and Hospital, where he has accepted a faculty position as a pediatric epileptologist and assistant professor of neurology. .
Knox, who is 40, met his wife, Laura, at UI. They have four children. Laura Knox is worship leader at Highpoint Church, Madison. They participate in worship activities at church and lead the AWANA Cubbies program for 3 and 4 year olds.
Knox was honored at a Friday afternoon assembly at Fisher High School, where he addressed the students.
He was recognized at halftime of the Fisher junior college football game against Heyworth.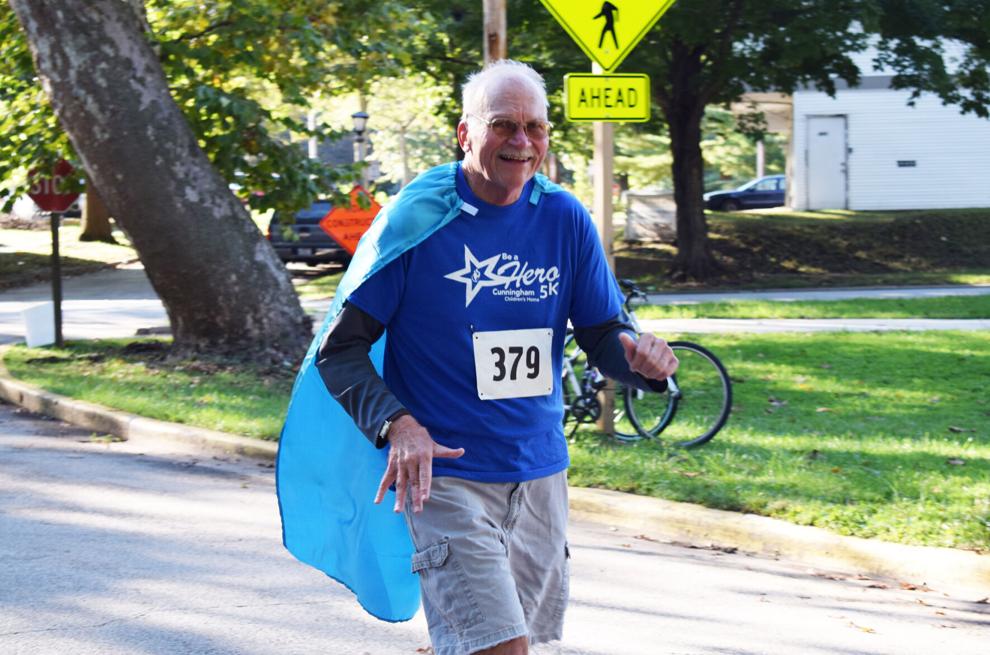 Early detection of breast cancer takes center stage A rural company based in Loda has undertaken a project to educate women on timely breast examinations to detect and treat breast cancer.
"My breast cancer was discovered at an advanced stage," said Heidi Punke Brown of Elliott, breast cancer survivor and longtime friend of Greg Niewold, owner of Power Planter. "Hopefully we can get the word out about breast density and early detection so no one else has a delayed diagnosis because of their breast density."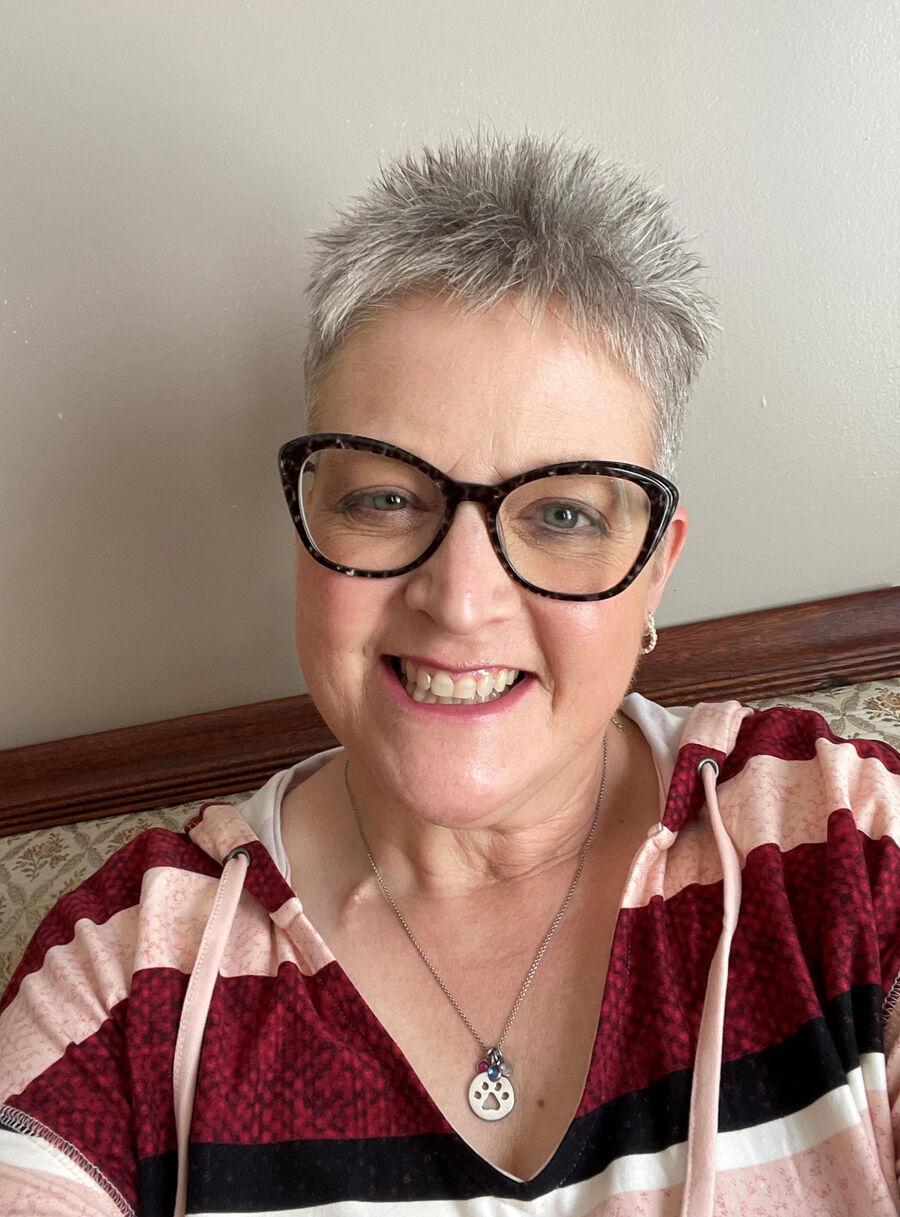 An estimated 26 women in the United States with dense breasts are underserved by mammography alone, leaving these women at risk for the growth and spread of breast cancer.
Working with the organization My Density Matters, producer Abbott-Ipco Inc., Brown and Niewold created Heidi's Hope Box to educate people about early detection of breast cancer. Each box contains a Power Planter bulb auger, 10 pink tulip bulbs, a memoir from Leslie Ferris Yerger (founder of My Density Matters), a note from Brown, bulb planting tips, and information on breast density and breast density. breast cancer screening. Power Plant will donate $25 from the sale of each box to My Density Matters.
"Heidi was the inspiration behind Heidi's Hope Box," Niewold said. "Shortly after her diagnosis, I gave her one of our augers so she and her family could plant bulbs to sow hope for the future. We hope to make a difference in someone's life by allowing them to learn about their breast density in hopes of saving their life.
Danville Night of Lights Parade Set It's not too early to start planning for Christmas – even though Halloween and Thanksgiving haven't arrived yet.
The Night of Lights parade will take place at 6 p.m. on December 2 in downtown Danville.
The theme for this year's parade is "The Songs We Sing: A Parade of Songs".
The parade heads south down Vermilion Street, beginning at Williams and ending at Towne Center. Parade announcements will take place under the marquee of the Fischer Theater with concessions available and a film to follow.
The parade grand marshals are representatives of Danville First Place First Fridays sponsoring organizations: Carle Health, OSF Healthcare, Hayley Siefert with Keller Williams TREC and Aunt Martha's. The winners of the Light Up Danville 2021 competition will also lead the parade.
To register a float, visit:https://www.signupgenius.com/go/10C0F44ACAF2DA3FEC43-night
For more information on float sponsorship, contact Nicole VanHyfte at [email protected]
Fire Department Holds Open DayThe Northern Piatt Fire Department, Mansfield, will hold its annual Fire Prevention Week Open Day on October 12 at the Fire Station.
The public is invited to tour the station and fire trucks and meet the new Northern Piatt firefighters.
Food, drinks, activities, crafts, tours and giveaways will be available.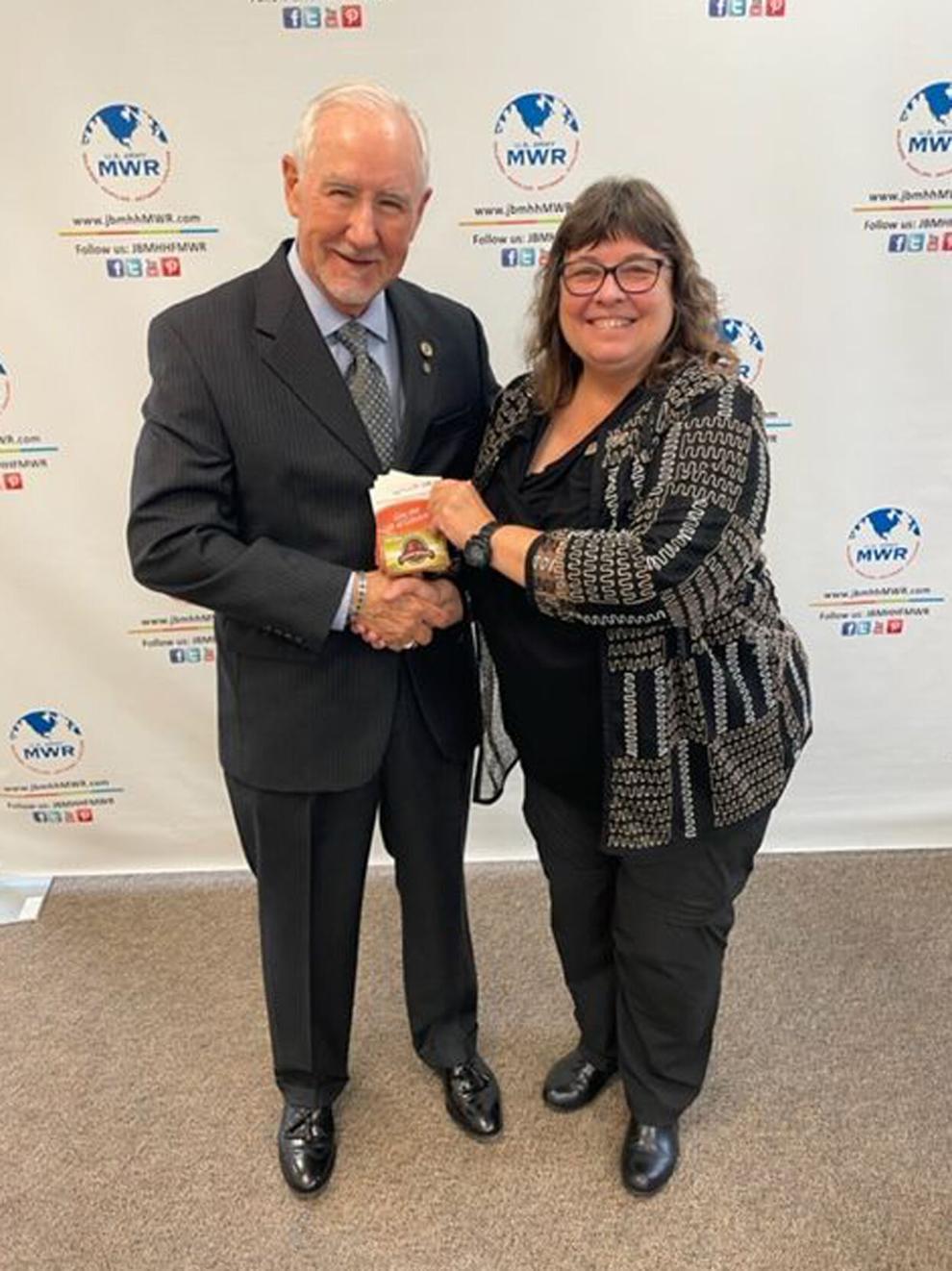 Gibbens Wins US Army Award W. Douglas Gibbens, from Foosland, is the winner of a national award from the Association of the US Army.
The 1959 graduate of Gibson City High School now living in Florida with his wife, Gibbens will receive the Sergeant Major of the Army William C. Bainbridge Medal at the AUSA Annual Meeting and Exposition from 10 to October 12 at the Water E. Washington Convention Center, Washington DC
The award is given for contributions to the Army by non-commissioned officers.
Gibbens is a retired command sergeant major, is an AUSA senior researcher, and a longtime volunteer leader with the association.
He joined the Army in 1966 and served in the Army Reserve until his retirement in 2001. He is an active supporter of the Army and its soldiers. He served 13 years in support of Employer Support for the Guard and Reserve, 19 years as Army Reserve Ambassador for Indiana, 10 years with Army Recruiting Command Grass Roots Council, supporting recruiters in Indiana and is involved with many other organizations. .
Gibbens was recently inducted into the Indiana Military Veterans Hall of Fame.
"This year's National Award recipients represent the best of AUSA," said Retired General Bob Brown, President and CEO of AUSA. "Through their dedicated service and commitment, each of them has made a tremendous difference in the lives of others and in support of our military and our nation, and I look forward to honoring them at our reunion. annual in October.